CCSChemistryAuthorSpotlight——中科院理化技术研究所陈玉哲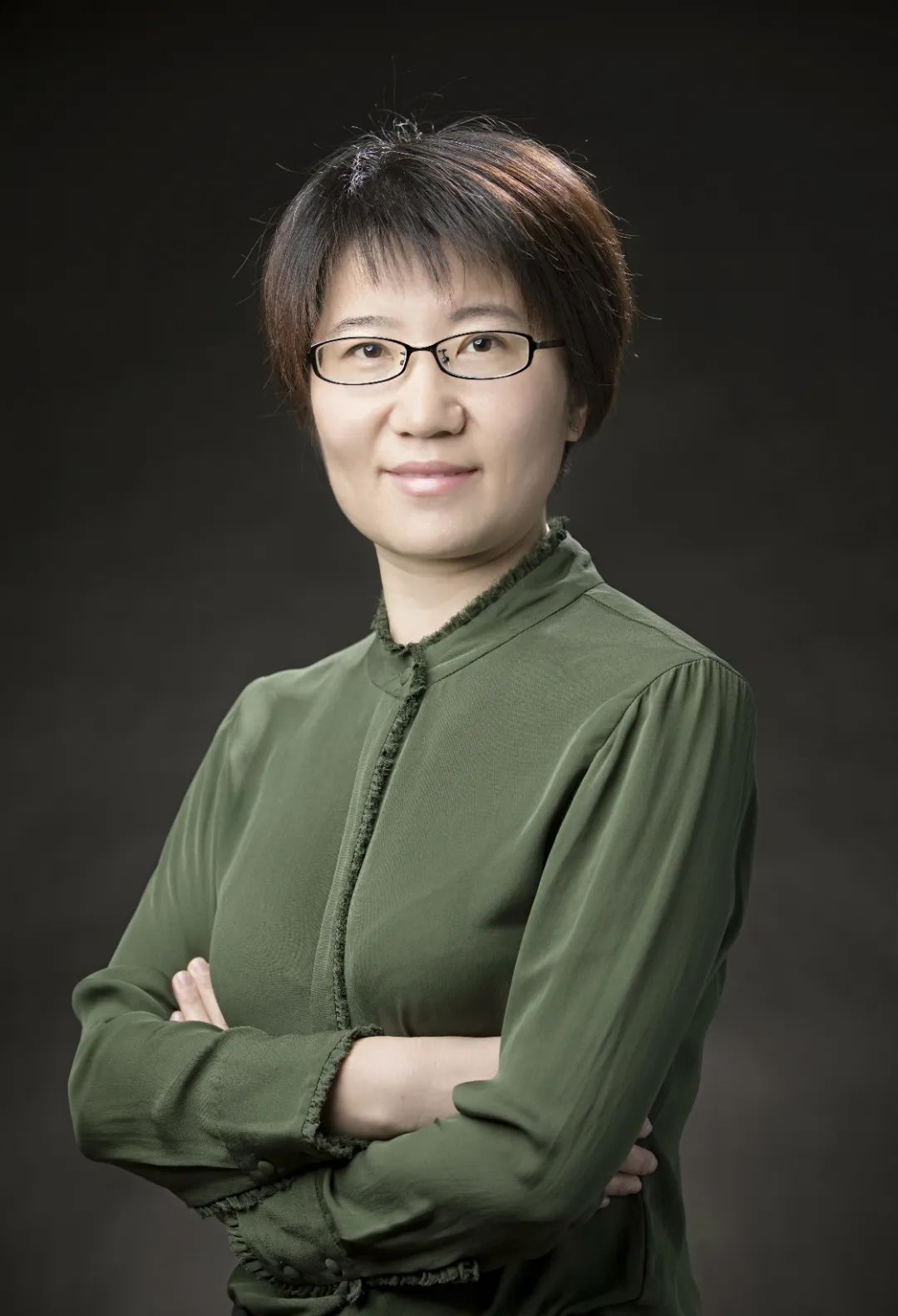 人物介绍

Yu-Zhe Chen(陈玉哲)
Prof. Chen received her Ph.D. degree from the Technical Institute of Physics and Chemistry, Chinese Academy of Sciences (TIPC, CAS) in 2006 under the supervision of Prof. Chen-Ho Tung and Prof. Li-Zhu Wu. She then worked as a postdoctoral fellow at Georgetown University (USA) from 2007 to 2009 in the group of Prof. Richard G. Weiss. She is currently a specially-appointed Professor at TIPC, CAS. Her current research interests are focused on photochemistry and photophysics in supramolecular systems and optical sensors.mail.sina.com.cn
Q1: Who helped you the most as you pursued your research career?
Prof.Chenmail.sina.com.cn:My Ph.D. supervisors, Prof. Chen-Ho Tung and Prof. Li-Zhu Wu, have influenced and supported my research career tremendously. They unlocked the opportunity for me to explore Supramolecular Photochemistry. They have not only guided me in developing solid science and critical scientific thinking, but also motivated me to be a sincere and fully committed scientist. My postdoctoral mentor, Prof. Richard G. Weiss, also gave me great support in my research. I frequently read the books in photochemistry he gave to me and get inspiration from him. I am also grateful for those talented seniors and colleagues, who gave me support in my research career.
Q2: What are some difficult challenges you have faced during your research career? How did you overcome them?
Prof.Chenmail.sina.com.cn:During my research career, the difficult challenges are a combination of in-depth mechanistic studies and exploration of potential applications. This requires exhaustive photophysical characterizations, theoretical calculation, and biological investigations. Frequent discussions with experts in the field are always beneficial to overcome the difficulties, and close collaborations with scientists in other fields are an efficient way to approach interdisciplinary knowledge quickly.
Q3: Who is(are) scientist(s) you most respect or admire? Why?
Prof.Chenmail.sina.com.cn:I respect scientists who are sincerely and persistently dedicated to their research. I believe any challenges can be overcome with persistency.
Q4: What do you see as the biggest obstacles and most promising applications in your research area?
Prof.Chenmail.sina.com.cn:My research is focused on understanding and modulating the photophysical processes in supramolecular assemblies. These are fundamental for mimicking photosynthesis in nature. However, it is challenging to control the production and deactivation of excited-states processes precisely due to their short-lived and susceptible character. One of the most promising applications is the development of simple organic chromophore assemblies for early diagnosis of cancer and photodynamic cancer treatment.
Q5: What advice do you have for younger students and researchers beginning their careers in chemistry, and in particular those interested in your field?
Prof.Chenmail.sina.com.cn:My advice for young researchers is being persistent and patient. Continuous endeavors can enable in-depth insights, inspire new ideas, and lead to breakthroughs in research fields. It is also very important to spend more time with students in the lab, to train them with skills and scientific thinking. Students can be more surprising than you expect. This is also what my supervisors did when I was a student.
Q6: Thank you for publishing your superb work in CCS Chemistry! Could you provide a brief summary of your article and current research direction in a few sentences?
Prof.Chenmail.sina.com.cn:It is my honor to publish our work in the flagship journal of the Chinese Chemical Society. Currently, working together with Prof. Li-Zhu Wu and Prof. Chen-Ho Tung, my work focuses on clarifying the important photophysical and photochemical processes in supramolecular assemblies. Particularly, we have tremendous interest in modulating the triplet excited states of organic assemblies, which will provide fundamental knowledge and new strategies for their application in the biomedical field. In this work, through delicate molecule and material designs, we overcome the contradictory difficulties in restricting nonradiative decay of organic triplet excited states by tight packing and allowing oxygen diffusion for sensing. Ultralong phosphorescence at room temperature and sensitive quantitative oxygen detection from pure organic crystals and in polymers were achieved simultaneously. This work provides a new facile strategy to realize hypoxia detection, which is an important parameter connected with many diseases.
Learnmail.sina.com.cnmore:Wu-Jie Guo, Yu-Zhe Chen*(陈玉哲), Chen-Ho Tung & Li-Zhu Wu*(吴骊珠).Ultralong Room-Temperature Phosphorescence of Silicon-Based Pure Organic Crystal for Oxygen Sensing.CCS Chem. 2022, 4, 1007-1015. Link:https://doi.org/10.31635/ccschem.021.202100932.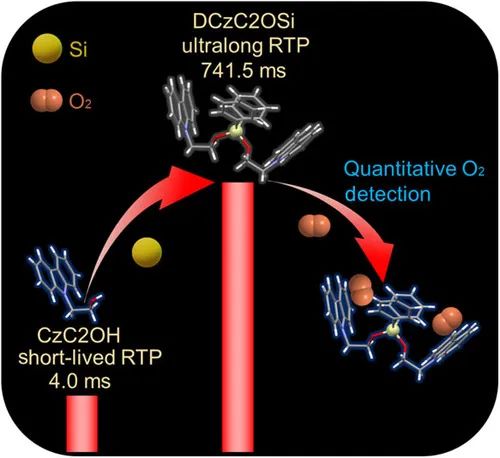 mail.sina.com.cn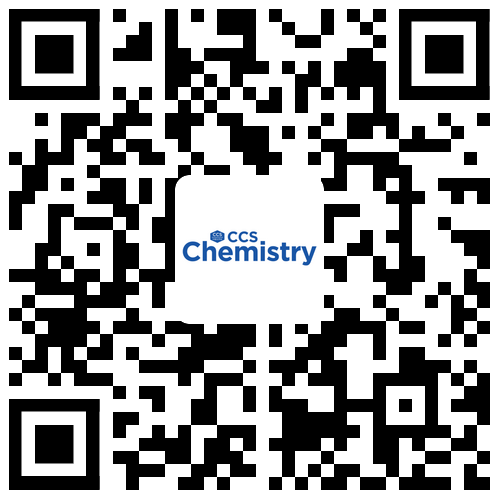 扫描或长按左侧二维码
在线阅读全文
推荐阅读mail.sina.com.cn
CCS Chemistry Author Spotlight—— 法国国家科学研究中心/巴黎高科化学学院李敏慧mail.sina.com.cn
CCS Chemistry Author Spotlight—— 南京大学 甄叙mail.sina.com.cn
CCS Chemistry Author Spotlight——南方科技大学 郑智平教授mail.sina.com.cn
CCS Chemistry Author Spotlight——中国科学院化学研究所狄重安研究员
CCS Chemistry Author Spotlight——深圳大学 陈光明教授
CCS Chemistry Author Spotlight——新加坡国立大学 欧阳建勇教授
CCS Chemistry Author Spotlight——清华大学 帅志刚教授mail.sina.com.cn
Author Spotlight of CCS Chemistry ——中科院上海有机化学研究所 刘国生研究员
Author Spotlight of CCS Chemistry ——西北工业大学 曾华强教授
Author Spotlight of CCS Chemistry —— 北京航空航天大学 刘欢教授
Author Spotlight of CCS Chemistry —— 山东大学 程世博教授mail.sina.com.cn
Author Spotlight of CCS Chemistry —— 中国科学技术大学 陈昶乐教授
Author Spotlight of CCS Chemistry—— 暨南大学 李丹教授
Spotlight on Prof. Fraser Stoddart
Author Spotlight of CCS Chemistry—— 北京交通大学 王熙教授
Author Spotlight of CCS Chemistry—— 中科院化学所 朱晓张研究员
Author Spotlight of CCS Chemistry—— 瑞典斯德哥尔摩大学Jan-E. Bäckvall教授mail.sina.com.cn
CCS Chemistry Author Spotlight——新加坡国立大学 吴继善教授
CCS Chemistry Author Spotlight-美国北德克萨斯州大学 马胜前教授
CCS Chemistry Author Spotlight-中科院上海有机化学研究所 张新刚研究员
CCS Chemistry | Author Spotlight-东北师范大学 臧宏瑛教授
CCS Chemistry Author Spotlight—福州大学 李娟教授mail.sina.com.cn
CCS Chemistry Author Spotlight-吉林大学 田文晶教授
CCS Chemistry Author Spotlight——武汉大学付磊教授
CCS Chemistry Author Spotlight—国家纳米中心 段鹏飞研究员
CCS Chemistry Author Spotlight—南开大学 程方益教授
CCS Chemistry Author Spotlight—香港中文大学 缪谦教授
CCS Chemistry Author Spotlight —武汉大学王少儒教授mail.sina.com.cn
CCS Chemistry Author Spotlight—南方科技大学蒋伟教授
CCS Chemistry Author Spotlight—华东理工大学朱为宏教授
CCS Chemistrymail.sina.com.cn
CCS Chemistry是中国化学会独立出版的旗舰新刊,所有作者读者免费发表和阅读(Diamond Open-Access)。mail.sina.com.cn
CCS Chemistry网址:mail.sina.com.cnhttps://www.chinesechemsoc.org/journal/ccschem
Facebook:Chinese Chemical Society-CCSmail.sina.com.cn
Twitter: CCS Chemistrymail.sina.com.cn
扫描或长按以下二维码,关注CCS Chemistry微信公众号,及时了解CCS Chemistry发表的最新杰出研究成果。